Products
The FIRST suite of software systems use the latest proven technologies to provide solutions for the information industry in the following areas:



A number of optional plug-in applications are available for each system including:

FIRST continues to work closely with our clients to develop software solutions that match their changing business environment and, where possible, achieve seamless delivery of an organisation's enterprise systems.
---
FIRST WebAdmin (LMS/KMS)
FIRST WebAdmin delivers a flexible and efficient system for bibliographic control, with a range of library service and management options for Librarians and information management professionals. It comprises both an LMS (Library and Information Management System) designed to match the specific needs of special Libraries of all sizes and a fully integrated KMS (Knowledge Management System)which provides the ability to record and maintain a knowledge profile of your organisation's people.
FIRST WebAdmin contains the following components:
Library and Information Management System (LMS)
Web-based client application used by information professionals to maintain the FIRST LMS database. It comes with multiple in-built functions for Cataloguing, Budgets, Acquisitins, Serials Management, Routing, Authority File Management, Circulation, Inter-Library Loans and more.
Knowledge Management System (KMS)
Web-based client application used by information professionals to maintain the FIRST KMS database.It includes, but is not limited to, the ability to record comprehensive knowledge profiles, record relationships between people, practice areas, subject interests, clients and projects and help to develop dynamic content for your OPAC specific to the logged-in users interests.
FIRST eBooks
Fully integrated DRM capable eCirculation system that allows loaning and returning of electronic books and subscriptions. With publishers releasing more electronic content the requirement for loaning of eBooks that can be strictly licensed, loaned and returned from either Web Admin or from the borrowers own eReader device has become of greater interest to libraries. The FIRST eBooks module is designed to integrate seamlessly into our product and eliminates the need for a borrower to go outside of your OPAC.
FIRST Messaging
The FIRST Service Messaging system delivers messages based on defined data conditions via email, fax, sms and web publication. Messages are able to be customised by library admin users and can contain HTML formatting.
FIRST Schema
Purpose-built, fully relational database including table, field and trigger definition.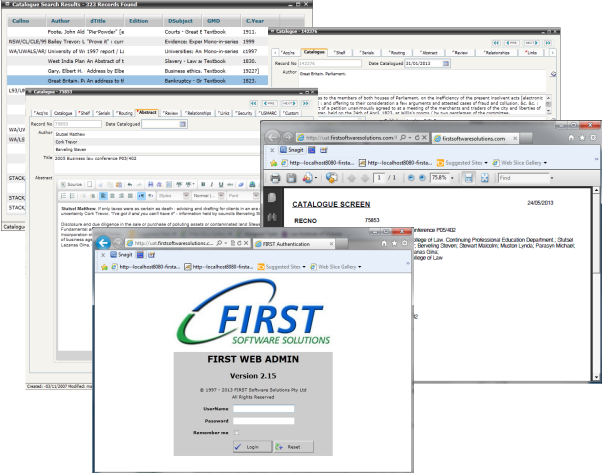 Back to top
---
FIRST Request Management System (RMS)
FIRST RMS delivers a flexible and efficient system within a web-based application to manage user requests. The RMS can be installed as a stand-alone product or fully integrated with a new or existing implementation of the LMS or KMS. The RMS allows user to log and track requests via a web browser - these requests are then forwarded to the appropriate request centre to be assigned and dealt with.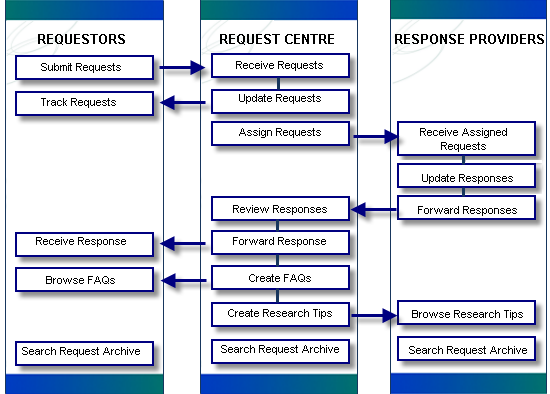 Back to top
---
FIRST Learning & Development Management System (LDMS)
FIRST LDMS provides the means to track user learning and development requirements from within a web-based application. It is designed to allow LDMS administrators to advertise and publish both internal and external courses and training to users via email and web pages. Additionally, it allows tracking of individual user training and requirements, provides CPD summaries, records attendance and provides reports based on client needs.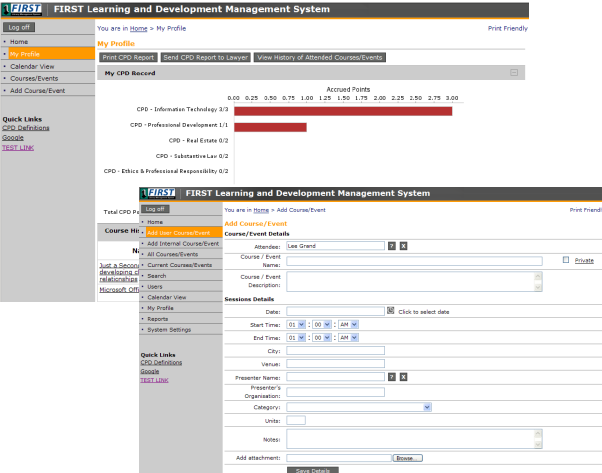 Back to top
---
FIRST Online Public Access Catalogue (OPAC)
FIRST OPAC is a web-based application that can be integrated with other FIRST products such as the LMS, RMS or KMS and acts as end-user interface for searching the catalogue, managing their profiles, loaning items and creating new requests. Each OPAC is customised to the client requirements and can be modified to use a companies templates and CSS to better incorporate it within a clients existing inter- or intranet. The generic OPAC offers functions such as RSS feeds, Quick Link and New Items gadgets, eBook loans, multi-database searches and menu editing abilites by Admin users.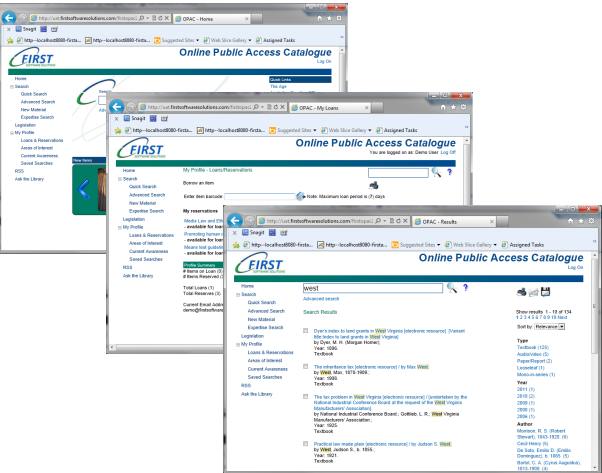 Back to top
---
FIRST Web Statistics System (WSS)
The FIRST Web Statistics System is a highly configurable web analytics software solution that provides insightful and detailed web traffic and interface behaviour analysis on visitor activity on your web site
FIRST Web Statistics comprises the following software components:
FIRST Statistics Monitor
Java-based statistics monitoring application that redirects a url to a cached set of statistics monitoring conditions, appends java script to standard pages as part of the on-load event and queues data inserts from browser-side events.


FIRST Web Reports
Web-based reports for statistical analysis.

FIRST Schema
Purpose built schema for recording discrete statistical data based on user authentication, page views and page element events.
The FIRST Web Statistics System assists your business to:
Make decisions based on customer behaviour
Collate traffic statistics as a form of direct feedback
Devise strategies informed by empirical data not guesswork
Learn what customers do and adjust content to meet their needs
Adjust strategies according to what works
Identify non-effective strategies and drop them
Identify training and promotion opportunities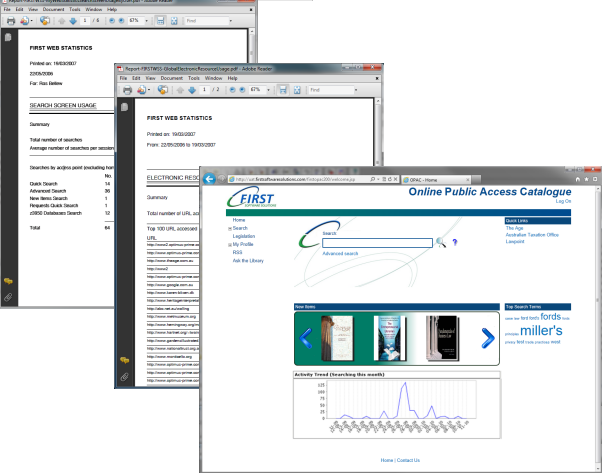 Back to top
---
FIRST Ecology Management System (ECO)
FIRST ECO is a configurable software tool for eco-friendly Building Automation products. FIRST ECO allows users to view and manage information relating to building lighting, power and weather conditions. The software provides for logging and display of all networked controls via KNX, DALI and IP based solutions.FIRST ECO also includes an optional messaging module used to deliver email, SMS or fax messages to users and/or suppliers based on conditions in the building.
FIRST ECO comprises the following software components:
FIRST ECO Management System
With a fully customised database and interface (with touch-screen capability) ECO tracks the environmental impact of the automated structure, recording and compiling statistics for use in reporting based on the various environs and automated functions it's connected to.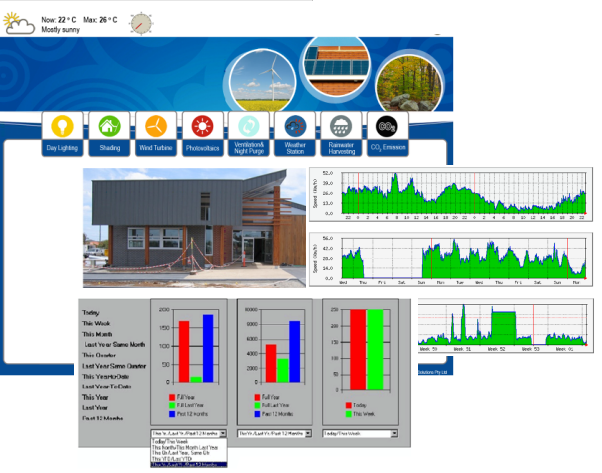 Back to top
---
A number of optional, purpose built applications are available to plug-in to FIRST LMS, FIRST RMS and FIRST KM software systems.
FIRST Link Checker
FIRST Link Checker checks all FIRST database fields where links to electronic documents, web sites and linked network applications are defined, including notes fields.

FIRST Full Text Document Search
The FIRST Full-Text Document Search engine periodically indexes a defined document store containing electronic documents of various types. Searches of the index file return a result displaying the text searched within the context of the matching document content.

FIRST RSS (Really Simple Syndication)
FIRST RSS (Rich Site Summary or Really Simple Syndication) feed functionality publishes content from RSS feed services to FIRST LMS, RMS, KM and/or Enterprise web interfaces.

FIRST z39.50
The FIRST z39.50 gateway allows you to search any publicly available z39.50 database from the FIRST LMS, RMS, KM and/or Enterprise web interfaces. Any bibliographic records returned in a z39.50 search can be downloaded directly into FIRST from the web-based search result screen.

FIRST Web Reports
FIRST Web Reports allows end-users to generate formatted reports for records selected from the FIRST LMS OPAC, FIRST RMS and FIRST KM Web Desk applications.

FIRST Data Loader
FIRST Data Loader is a plug-in application designed to load or import data into the FIRST database from a range of external data sources, including z39.50 databases.

FIRST Batch Link Export
The FIRST Batch Link Export is a plug-in application designed to export full USMARC bibliographic data from a FIRST database to an export file. Exported files can then be sent to Kinetica for loading into the National Bibliographic Database via their Batch*Link process.

FIRST Integration Gateways
A suite of gateway applications designed to interface with external third party systems including document, financial and membership management systems.
For more detailed information, please contact FIRST Software Solutions
Back to top
FIRST Software Solutions
190-192 Hoddle Street
Abbostford VIC 3067
Tel: +61 3 9340 4000
Fax: +61 3 9349 2755
Email:
sales@firstsoftwaresolutions.com